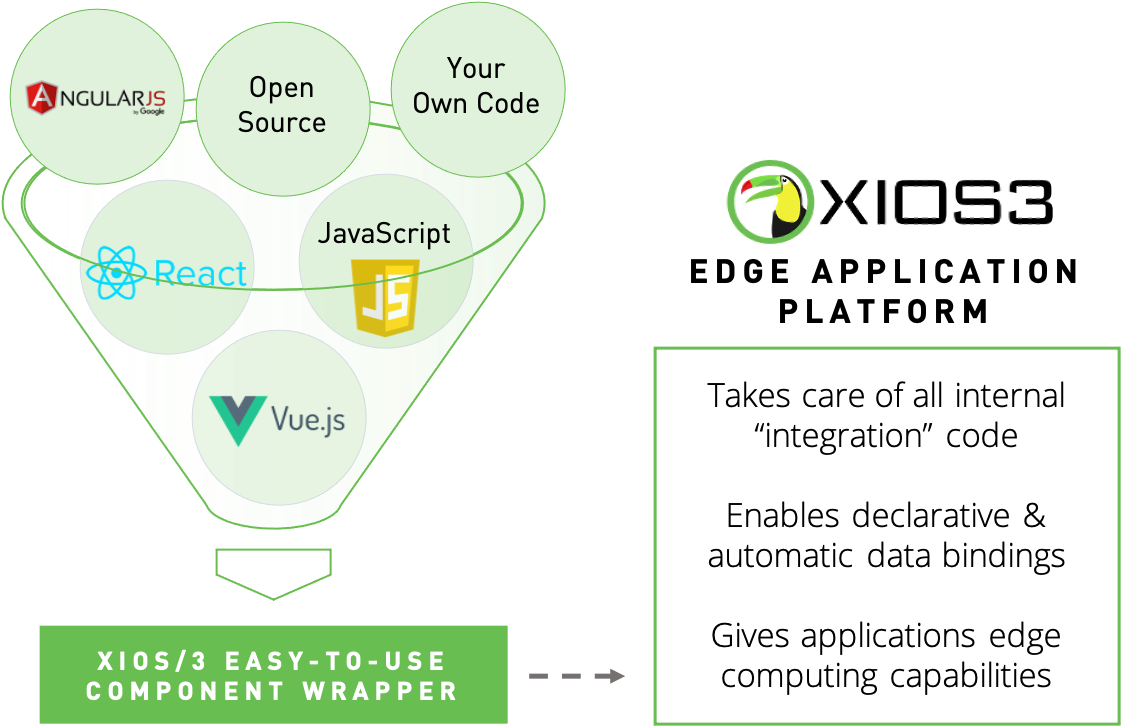 Increase the Value of Your Code
The idea with XIOS/3 is as easy as it looks. Take existing code, or code you find online, wrap it with XIOS/3 and eliminate the tons of custom integration code otherwise required.
XIOS/3 then takes care of all internal "plumbing code", enables a very declarative way of building you application (i.e. saving even more time) and introduces automatic data-bindings so that your wrapped components work in any setting, now and in the future.
Applications built with XIOS/3 will also have software-like features and functionality available out-of-the-box, and unique Edge Cloud Computing capabilities make applications run smooth anywhere in the world, even over unstable networks.
All you need,
already packaged

XIOS/3 includes everything to build a complete web app frontend. No need for a mix-match of tools and technologies, just grab any library or component you want, wrap it, and focus on delivery.

No more re-
inventing the wheel

When wrapping JavaScript into completely reusable components you eliminate the need to reinvent the wheel in each project, allowing you to build high-quality web applications with up to 70% less code.

Reuse what you've
already built

Existing components that you modify or extend will always be completely reusable. If you need anything extra, you can easily add or include what you've built previously in JavaScript or another framework.
Desktop-like
features

Most web apps today lack features like drag & drop, context menus and keyboard shortcuts. With XIOS/3, that and much more is available out-of-the box if needed.



Apps for
any device

XIOS/3 applications adapt to the device they are currently running on, all that is needed is a standard web browser. No need to build different apps for different devices.



Maximum
performance

Unique Edge Cloud Computing capabilities of XIOS/3 make applications run smoothly, and with great user experience, even over unstable networks or in remote areas.


Extend
the platform

XIOS/3 can easily be extended with your own code and components, whether it is something new you need or if you just want to include what you've built previously.



Backend
agnostic

Unlike Low-Code, XIOS/3 apps are completely backend agnostic and can be hosted on any webserver. Also, there are no compilation or building steps required to launch your app.



Build with
your IDE

XIOS/3 does not require any specific development environment. Use the one you like, or even a simple text-editor would do. We value your flexibility as a developer.


Front-end for
any web API

XIOS/3 includes all you need for building web application front-ends and it can also consume any web API, meaning that you can build a front-end to virtually anything.

Modernize legacy
software & systems

XIOS/3 can be used to give legacy systems or old web apps a new, modern look and feel without throwing away previous investments in core system architecture.

Integrate multiple
systems & apps

XIOS/3 can also consume API:s from several systems and apps, making it possible to integrate them into a homogenous user environment where things work together.